PLEASE NOTE: This cover is not reprinted in Dr. Strange Vol. 1
Click panels for larger images
---
From the Mouths of the Marvels:
"You stagger him, Mordo! He cannot endure much more! I am the explosive! You are the fuse! Together, we can never fail!"

-- Dormammu, page 6
---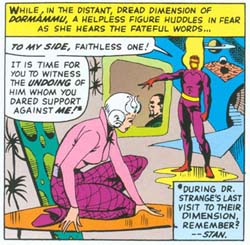 Dormammu continues his humiliation of Clea.
Doctor Strange from Strange Tales #139
December 1965 • 10 pages
Script: Stan Lee • Letters: Artie Simek
Pencils: Steve Ditko • Inks: Steve Ditko
---
Title: "Beware...! Dormammu is Watching!"

Villain: Baron Mordo, Dormammu, Mindless Ones

Guest Appearance: Clea, Ancient One

Letters Page: Page One
---
Synopsis: (continued from ST #138)

Dormammu determines through his incredible powers that Dr. Strange received nothing from Eternity. He and Mordo figure Strange to now be an easy defeat, and Dormammu lifts the coma from the Ancient One so he can see his disciple be beaten. Before the combat begins, Dr. Strange consults with the Ancient One, who says he will aid him but can only do so in weak amounts. As Dormammu watches on with Clea by his side, the two master magicians battle each other. Dr. Strange, augmented by the weak power of the Ancient One, and Mordo, augmented by the power of Dormammu, pitch a fierce campaign of mystical violence. Dr. Strange plays defense as much as possible, to learn about the extent of Baron Mordo's powers. He buys time with a fake ethereal spirit, which causes Dormammu to ridicule the arrogant Mordo's failings at realizing how Dr. Strange was fooling him. Finally, Dr. Strange begins to get the upper hand, and as Mordo pleads with Dormammu for more help, the super-powered villain from another dimension decides that enough is enough, and it is time for his direct action.

(continued in ST #140.)

--synopsis and panel images by Gormuu
---
Issues Reprinted
Doctor Strange from Strange Tales #110-111, 114-141

Click on cover image to learn more about each issue.