PLEASE NOTE: This cover is not reprinted in Dr. Strange Vol. 1
Click panels for larger images
---
From the Mouths of the Marvels:
"He...he seems to have appeared from nowhere! His manner! His clothes! And most of all...his eyes! How awesome he looks!"

-- townspeople, on Dr. Strange, page 3
---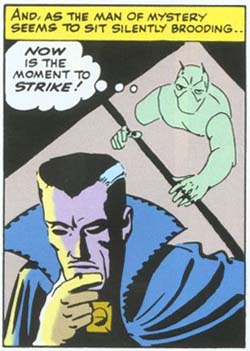 I think you'll find that Dr. Strange is ready for your big "moment," par'dner.
Doctor Strange from Strange Tales #118
March 1964 • 8 pages
Script: Stan Lee • Letters: Sam Rosen
Pencils: Steve Ditko • Inks: Steve Ditko
---
Title: "The Possessed!"

Villain/First Appearance: "The Others"

Innovation: First Eye of Agamotto (unnamed)

Letters Page: No letters page in this issue!
---
Synopsis: Baron Mordo casts a spell that surrounds the home of Dr. Strange in a trapping mist. When Dr. Strange enters his home, he is caught inside when the building disappears into thin air. Dr. Strange changes into his ethereal form to investigate what is going on, and finds out that Mordo is behind it. Unfortunately, Mordo traps him inside a cylinder of light from which he cannot escape. Thinking Dr. Strange effectively trapped, Mordo sets out to destroy the Ancient One. He travels to the home of the Ancient One and claims he has changed his evil ways and seeks amends from his former master. Once he gets close proximity to the Ancient One, he unleashes a mystical attack on the old man. But it is not the Ancient One- it is Dr. Strange who has taken his visible form. He tells Mordo that he escaped the cylinder of light by going down through the floor and towards the center of the Earth, all the way down the cylinder until the power of Mordo's spell gave out and he was free of the trap. He then adopted the visage of the Ancient One to help his mentor and defeat Mordo. He casts a bright light from a ring on his finger and it sends Mordo running away, until finally he is cast out of the castle and defeated. Dr. Strange returns his home to its proper place and reflects on his latest battle with the evil Baron Mordo.

--synopsis and panel images by Gormuu
---
Issues Reprinted
Doctor Strange from Strange Tales #110-111, 114-141

Click on cover image to learn more about each issue.