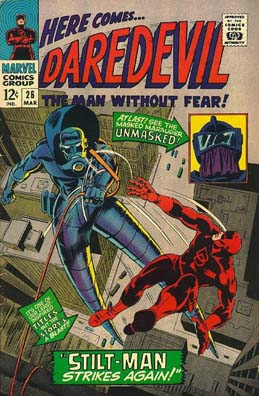 Click panels for larger images
---
From the Mouths of the Marvels:
"If it's action you want, I'll try to see to it that you're not disappointed! So you won't grow up frustrated!"

-- Daredevil, to Stilt-Man, p. 13
---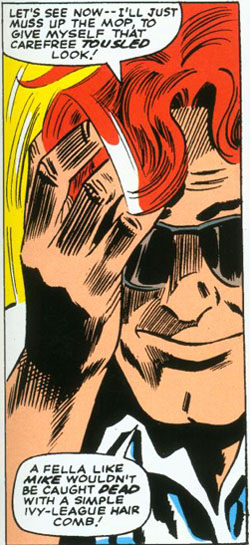 The greatest subplot in Daredevil history begins to unfold! (tee hee hee!)
(Click panels for larger images.)
Daredevil #26
March 1967 • 20 pages
Script: Stan Lee • Letters: Artie Simek
Pencils: Gene Colan • Inks: Gene Colan
---
Title: "Stilt-Man Strikes Again!"

Villain: Leap-Frog, Stilt-Man, Masked Marauder

Guest Appearance: Karen Page, Foggy Nelson, "Mike Murdock", Frank Farnum

Letters Page: Page One • Page Two

House Ad: Ad #1 • Ad #2 • Back Cover Ad
---
Synopsis: Daredevil leaps his way back to the law offices, and changes back to civilian garb. But instead of adopting the real identity of Matt Murdock, he changes into his other alter ego, his twin brother "Mike" Murdock. He really hams it up with Karen, hitting on her incessantly, leaving Foggy to fume in the background about his aggressive romancing. Foggy drags Karen off to court to help him in the case in defense of Leap-Frog, and Mike Murdock tags along. On their way out, they meet up with the landlord, Frank Farnum, who warns Foggy not to allow such "despicable criminals" like Leap-Frog on the premises. Foggy says it's their duty to defend clients like him.

In the trial, the prosecutor presses Leap-Frog on his spring-loaded footwear. The accused man suggests he be allowed to try them on to see if they fit, and when he puts them on, he bounces straight out the window! Waiting outside is the Stilt-Man, who had come to the courthouse to help Leap-Frog escape so they could partner in a life of crime- but Leap-Frog has hurt himself after a hard landing on the street below. Mike Murdock excuses himself from Karen's side to turn into Daredevil, then races outside to see Stilt-Man trying to carry Leap-Frog's body away. Stilt-Man propels himself up into the sky, evading DD's advances, then pulls out a laser gun and fires. DD jumps out of the way, then uses his great acrobatic skill to knock Stilt-Man into a nearby wall.

Stan stops the story at this point to share with the reader the recent events in the life of Wilbur Day, aka the Stilt-Man. After being shrunk to microscopic size after his last encounter with Daredevil (see DD #8), he spent some time in limbo and then returned to normal size. He then set out to make his hydraulic stilts even stronger!

Back in real comics time, the Masked Marauder has set out to break into the law offices of Nelson and Murdock, to see what he can find out about the connection between Daredevil and the law firm. Finding nothing, he sends his men home, but stays behind- for he is where he belongs, inside the building that he owns- for when he takes his mask off, he is revealed to be Frank Farnum!

Stilt-Man recovers from being knocked aside and fires again at DD, but ol' Hornhead manages to wrap Stilt-Man's legs completely with his billy club's cable, pulling it tight and then letting him fall all the way to the ground. But when he rounds the corner to collect the villain for delivery to the police, the body is gone. Stilt-Man has been recovered by one Frank Farnum, who loads him and his stilts into his car and drives him away.

Karen watches Daredevil from the window above, flush with the knowledge of his secret identity- that of "Mike Murdock." Foggy grows very jealous of the obvious affection she has for him.

--synopsis and panel images by Gormuu

--letter pages and house ads provided by Aussie Stu
---
Issues Reprinted
Daredevil #22-32, King-Size Special #1

Click on cover image to learn more about each issue.