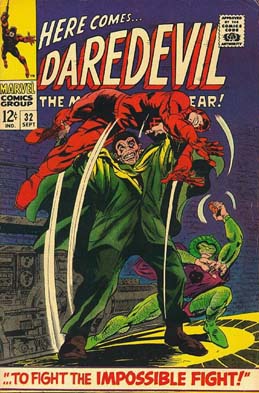 Click panels for larger images
---
From the Mouths of the Marvels:
"Getting nervous, Daredevil? Beginning to feel frightened?? You should be..because you can count the remaining minutes of your life on the fingers of one hand!"

-- Mister Hyde, p. 8
---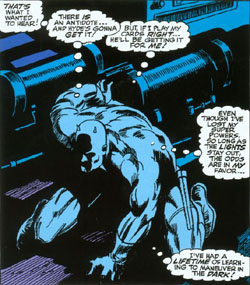 Daredevil in the dark, as drawn by the master of shade and shadow, Gene Colan!
(Click panels for larger images.)
Daredevil #32
September 1967 • 20 pages
Script: Stan Lee • Letters: Sam Rosen
Pencils: Gene Colan • Inks: John Tartaglione
---
Title: "...To Fight the Impossible Fight!"

Villain: Cobra, Mister Hyde

Guest Appearance: Foggy Nelson

Letters Page: Page One • Page Two
---
Synopsis: (continued from DD #31)

The Cobra grabs hold of Daredevil and walks him toward a waiting car with Mister Hyde behind the wheel. As they whisk off towards their destination- which Mister Hyde announces as their "newest laboratory"- DD formulates a plan to get a hold of any kind of antidote which can restore his "sight". Foggy rouses himself from unconsciousness and heads to the police to warn them that Daredevil has been kidnaped. But when he reveals to them that DD is blind, they laugh it off as "crazy talk", since no super-hero could possible be blind!

Daredevil is transported to the sea shore, and the Cobra and Mister Hyde pull him out of the car and load him into a motor boat for a ride out to their new laboratory in an offshore lighthouse. As lightning crashes and waves crest, they pull him up inside the forbidding locale. They climb the steps to the top of the lighthouse, with Mister Hyde doing his best to intimidate Daredevil with his impending death. But soon, the two villains start to bicker with each other, and Daredevil takes the opportunity to feel his way around the room. He notes a loud hum reverberating through a thick wooden door, and while his captors are disengaged from him, he lets himself inside. He realizes there is a huge generator inside, and feels around on the wall for the power switch. Finding it, he shuts it off, sending the lighthouse into pitch black darkness.

Mister Hyde and Cobra realize the tables have turned, and Hyde shouts out to his colleague to "protect the antidote!" DD realizes he's not on a wild goose chase when he hears this, and sets out to nab it! Hyde grabs hold of it, and Daredevil clumsily makes his way through the room, with the Cobra jumping onto his back. He sheds him quickly and is then attacked by Hyde, who clutches the antidote in his left hand. Back and forth the fight goes in the dark, with Daredevil using each move to try and track Mister Hyde's place in the room.

Finally, the bottle breaks free of Hyde's hand when Cobra accidentally smacks him on the head with a wooden plank. DD finally locates it on the floor and swallows it, with his radar sense returning in a flash! Quickly empowered, DD continues his assault in the dark, where he has the total advantage. He puts away the Cobra in quick order, but Mister Hyde crashes out the wall and gets away in the motor boat. A police helicopter arrives to transport Cobra to jail, and Daredevil back to shore.

--synopsis and panel images by Gormuu

--letter pages and house ads provided by Aussie Stu
---
Issues Reprinted
Daredevil #22-32, King-Size Special #1

Click on cover image to learn more about each issue.