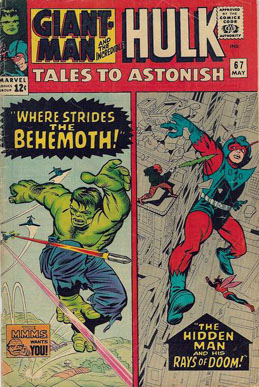 Click panels for larger images
---
From the Mouths of the Marvels:
"Run! Run! Run from Hulk! Fight is over! Hulk has won!"

-- Hulk, pg. 5
---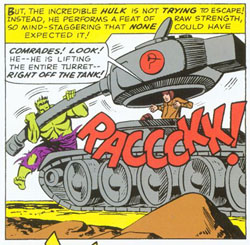 The Hulk goes on a righteous rampage!
(Click panels for larger images.)
The Incredible Hulk
from Tales to Astonish #67
May 1965 • 10 pages
Script: Stan Lee • Letters: Artie Simek
Pencils: Steve Ditko
Inks: Frank Giacoia (credited as Frankie Ray)
---
Title: "Where Strides the Behemoth"

Villain: The Commies

First Appearance: Kangha Khan, Hakun Gantu

Guest Appearance: Kangha Khan, Hakun Gantu, Glen Talbot

Letters Page: Page One

House Ads: Page One • Page Two
---
Story Synopsis: The Hulk races towards the lead tank in a Soviet battalion racing to take him out. He rips off the turret and slams it down on top of the rest of the tank. The tanks falling behind fire rockets at him, but the Hulk is unperturbed. He picks up a whole piece of the road and lifts it up, tossing the tanks up into the air and down again. He hops on top of the tanks and begins dismantling them piece by piece. The tanks make a last ditch effort to surround him, but a sonic hand clap from the Hulk sends them running.

The Hulk leaps off into the distance, leaving Soviet lands and heading into Mongolia. He stops to rest and turns into Bruce Banner. The next morning, he is taken captive by a Mongolian chieftain named Kanga Khan. Instead of killing him, Khan decides to hold him for ransom. General Ross gets word that Banner is being held in Mongolia and he sends Major Talbot out to get him back. But while Talbot negotiates with Kanga Khan to get Banner back, rival factions of the Mongolian warlord are trying to get Banner, too! As they fire upon the camp site, Talbot races out with Banner in tow. They head up a rocky cliff, with Talbot defending them by knocking out an armed guard that chases after them.

Unfortunately for them, they lose their footing on the cliff's path and go tumbling down into the deep abyss below.

--synopsis and panel images by Gormuu

--letters page and house ads provided by Justin Fairfax
---
Issues Reprinted
Giant-Man from Tales to Astonish #59
& Incredible Hulk from Tales to Astonish #60-79

Click on cover image to learn more about each issue.