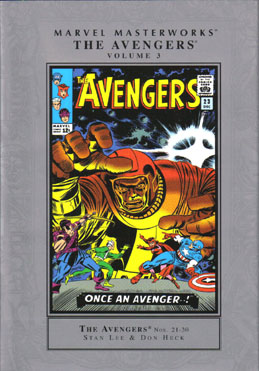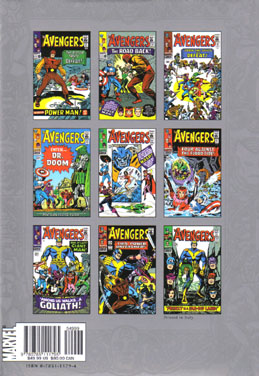 Click panels for larger images_________________________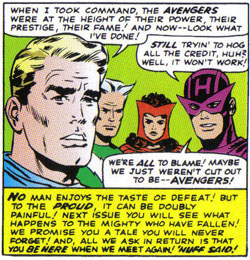 (Click panels for larger images.)
_________________________

AVENGERSFOREVER.ORG
A massive trove of information regarding Earth's Mightiest Heroes!


AVENGERSASSEMBLE.US
Another big and bad website devoted to the Avengers!

_________________________
PRINT HISTORY &
COVER GALLERY
Original 27
First print: 2/94

---
Marvel Masterworks: Avengers Volume 3

Reprints: Avengers #21-30

(Vol. 27 in the Marvel Masterworks Library)

Current In-Print Edition: Second Edition, First Print
Original Release Date: 2/4/04

THIS VOLUME IS NOW OUT-OF-PRINT (click for MORE INFO)

REGULAR EDITION ISBN: 0-7851-1179-4 • List Price: $49.99
VARIANT EDITION ISBN: 0-7851-1293-6 • List Price: $54.99
VARIANT PRINT RUN: 450

216 Pages

Scripted by Stan Lee
Pencilled by Don Heck
Foreword by Stan Lee

Buy From:
AMAZON.COM USA: n/a • AMZ UK: n/a • AMZ CANADA: n/a
TALES OF WONDER: $34.99
---
The Kooky Quartet grows up!
The last Masterworks volume saw the first major overhaul of the Avengers lineup. (Hey, I know anytime the Hulkleaves the group, that's a major overhaul all by itself, but bear with me...!) Avengers #16 saw twoof the "Big 3" leave, to be replaced by that rascally heckler Hawkeye, as well as the Giant-Man/Wasp relationship switched out with the brother-sister tandem of Scarlet Witch and Quicksilver. While the A-listersall went back to their own titles, this New Avengers squad would get a chance to prove themselvesin the pages of Avengers, to grow up right before our reading eyes. The Avengerswould find themselves having to pit their mettle against thesuper-villains that had gotten their dander up against the "legit" Avengers.
So how'd they do?Well, gee whiz, I guess the best people to ask that question would be the villains they faced. AndAvengers Masterworks Vol. 3, which reprints issues #21-30, featured some of the dooziest! Kang is broughtback, and Dr. Doom is introduced in the pages of Avengers to menace Earth's Mightiest Heroes. Sub-Mariner's lethal foe Attuma manages to waterlog some time against our team. And the Enchantressreturns, though she is not alone!
As theissue count piled up, you could feel Stan and Co. stretching out to make the Avengers even more epic than it had been before. That meant when hauling back a guy like Kang the Conqueror, Stancouldn't just have him get busy with the Kooky Quartet in rush hour traffic. No, he'd have to up the anteby placing the team in the midst of a cosmic struggle on a far distant planet, in the far-flung future, and he'dhave to make the stakes of the game the heart of a fair princess. He'd have to seed the action with treachery and deceitfrom all sides, and make sure there's an overwhelming aggregate of crazy contraptions and marvelously mind-bendingmunitions at the nemesis' disposal. Oh, and he'd have to add a heavy dose of tragedy to the denouement, and placethe Kooky Quartet judiciously throughout the mix. If you have to ask by now if that's what Stan did, well...that's what Standid! In Avengers #22-23, you have one amazing cosmic opera over a two-issuespan (that's 40 pages, folks!)
Welcome, also, too Erik Josten! Fans of the late 90s/early 00s comic Thunderbolts will meet the fellow who now goes by the nameAtlas, although in these pages he is the villainous ex aide-de-campe to Baron Zemo, Power Man! Oneof Zemo's minions left stranded in the Amazon wilderness after his master's death, Power Man isled to his power (and nutty costume, natch!) by the lovely and talented but deadly Enchantress, in another bid to take on the Avengers behind the might of a powerful dude. Given the equivalentpowers of Wonder Man, Erik Josten begins his crusade of villainy in the first story in this book, as wellas the last two, when he teams up with the Swordsman to take on the super-team. But don't worry,one day Power Man will be good! (Twice over, actually, as Luke Cage will adopt that name, as wellas Erik Josten seeing that being good is more profitable long-term than being bad.)
And the roster shuffling continues, as the Wasp and Giant-Man return to the membership of the team, except not through the best of circumstances, as you will find out when reading this volume! Giant-Man, aka Hank Pym, hassome serious problems going on, mainly getting stuck at ten feet when sizing down. (Other problemsinclude that crazy blue/yellow costume and the dummy name "Goliath," but I don't want to pile onpoor Hank Pym...he's kinda tender right now!) The "stuck at ten-feet" subplot would continue for awhile, and includes some of the kitschiest dialogue the Marvel Universe would ever produce. It'sgreat fun to follow to its conclusion somewhere in Vol. 4.
This was the very last volume of the "original 27", published originally back in 1993. We hadto wait several years for the next new Masterworks, and several more than that for a new AvengersMasterworks! (Try 11! Yeah, it was that long!!!!) Now that this book is back in print, you won't have towork so hard to find a copy so you can relive the glory days of the Kooky Quartet!
-- by Gormuu
-- panel images provided by Avengers Assemble
---
Issues Reprinted
Avengers #21-30

Click on cover image to learn more about each issue.