THE 53rd MARVEL MASTERWORKS
---
Marvel Masterworks: Fantastic Four Volume 9

Reprints: Fantastic Four #82-93

(Vol. 53 in the Marvel Masterworks Library)

First Print
Release Date: November 2005

REGULAR EDITION ISBN: 0-7851-1846-2 • List Price: $49.99
VARIANT EDITION ISBN: 0-7851-1847-0 • List Price: $54.99
VARIANT PRINT RUN: TBA

272 Pages

Scripted by Stan Lee
Pencils by Jack Kirby
Inks by Joe Sinnott
Foreword by Stan Lee

Buy From:
TALES OF WONDER: REG: $34.99 • LTD: $38.49
---
FIELD TRIP!
That's "Field Trip" as defined in the Lee/Kirby Dictionary, which means you'd better pack that bag lunch in unstable molecules and strap yourself in for a trip around the universe beyond your wildest imagination!
First stop: A little visit to the neighbor's place, and then hanging with the incomparable Inhumans and titanic team-up against Maximus the Mad!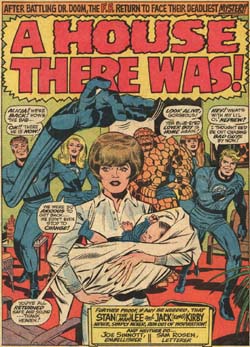 Second stop: Europe. Paris is beautiful in the springtime, but that's nothing. According to the brochure, Latveria's lovely year round. You might want to take that visitor's guide with a grain of salt, though- the savvy traveler never trusts a Chamber of Commerce run by Doombots!
Third stop: Down under. Way down under for a big-time battle with the Mole Man!
Last stop: Now here's a trip that's far out! The ever lovin' blue-eyed Thing gets whisked away on a galactic tour as a gladiator in the scurrilous Skulls' slave arena! If that's not enough outer-space exotica for ya, then welcome yourself to a world wrapped in the Roarin' Twenties!
With tour guides like Stan and Jack, you'd best make those travel plans today, True Believer. Tickets for this trip are guaranteed to sell out!
Collecting Fantastic Four #82-93.
(from the official Marvel solicit)
---
Q & A WITH EDITOR CORY SEDLMEIER
August 10, 2005
GORMUU: Fantastic Four Masterworks Vol. 8 was an incredible affair, with consistently top-notch artwork restoration. It seems as if you've gotten your hands on a healthy amount of original FF art recently- can we expect this trend to continue in Vol. 9 (and, heck...how about the expected Vol. 10?)
CORY: FF Vol. 9 is definitely in comparable condition to Volume 8. The covers are a little worse off, but thankfully the owners of two covers have already contributed copies of the originals, so we're in good shape.
Actually, very little of Volume 8 was off of original art (short of Annual #6, which was from completely from original art, everything in Vol. 8 was from photostats). It's simply that by this time in the FF run our film/photostat archives are both virtually complete and in excellent condition.
You have to take into account that no one knew the Marvel Age of Comics was going to be the Marvel Age of Comics when they started it, and as a result, in the early days there was less of a mind towards keeping an archive of previously printed work. Heck, I've been told all the first generation photostats of the earliest Marvel work were shipped off for use in the 1960s cartoons series. No one would've guessed that these characters were going to be around for four months, much less forty years later. That being said, it's clear that by this point in the FF run (issue #82) everything was being photostatted and preserved with great attention to detail.
GORMUU: FF Vol. 9 is the first Masterworks to come across an "all-reprint Annual" in the comics chronology- namely FF Annual 7. Naturally, you won't cover the comics reprinted in the Annual, but is there a place in the Masterworks for the cover to FF Annual 7? And what about the funky "bullpen photos" montage from the Annual? Can we expect that, as well?
CORY: Absolutely! The cover will be included along with all four pages of batty Bullpen photos. Feel free to share the first page to the faithful!
(Gormuu: Okay, Cory, if you say so! Click this link, and witness...THE BATTY BULLPEN!)
GORMUU: Who's working on the repro for Vol. 9? I hope it's All Thumbs. Their work really stands out to me.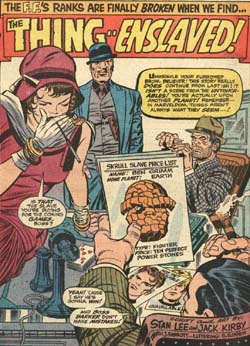 CORY: It'll be the best team out there! The Cory Sedlmeier/All Thumbs Dynamic Duo with a little coloring love from former Marvel Collections Editor Marie Javins.
GORMUU: As I alluded to earlier, it's not a matter of if but when we get a Masterworks volume reprinting the last of Stan and Jack's FF stories (that would be Vol. 10.) How does it feel to be in the home stretch of a comprehensive reprint project gathering some of the greatest comics of the art form? Pretty heavy, huh?
CORY: 32 volumes in six months was a monstrous feat (I lost a couple years off my lifespan on that one), and of any of them, FF received as much attention as was possible. Finding myself on the verge of FF Vol. 10 now, it's an honor, it's damn fun and I wish time and resources allowed me to lavish every volume with the attention I've been able to give to recent volumes.
I'll say here and now that I'm set to make Vol. 10 a book to remember. Anyone with any original artwork, pencils, etc. from anywhere across the Stan and Jack run can feel free to contact me. I'd like to make their last volume a testament to their creative vision and collaboration across the entire series.
GORMUU: Thanks for taking the time to give us the inside scoop on FF Vol. 9, the 53rd volume in the Marvel Masterworks series, and further thanks are due to you and all the other folks at Marvel who are bringing us these testaments to the glorious history of Marvel Comics!
For fans who want to test their mettle at guessing which FF cover Cory and co. have picked to adorn the dustjacket to FF Vol. 9, make sure to visit THIS THREAD for our guessing game! And join us on the boards to discuss this and other Marvel Masterworks!
---
Issues Reprinted
Fantastic Four #82-93