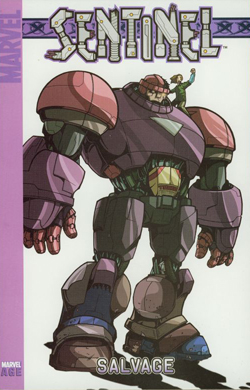 _________________________
From the Mouths of the Marvels:
"I have a tactical mission for you. These are your targets."
-- Justin, to his Sentinel robot, Sentinel #6
_________________________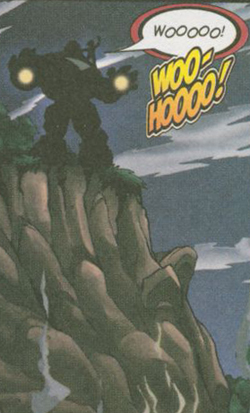 Juston Seyfert takes his new toy out for a test run!
(Click panels for larger images.)
_________________________
Featured Characters:
Juston Seyfert
Chris Seyfert
Pete Seyfert
Jessie
Alex and Matt
Greg and Josh
Sentinel
_________________________ From the Back Cover:


It stinks to be Juston Seyfert.

He's tormented by the seniors at Antigo High School. He has no luck with the ladies. He's dirt poor. He lives in his father's junkyard. And his mother walked out on him and his family years ago.

Without cash for standard teenage pursuits, Juston must find his own fun. On one of the many days spent scavenging in his father's salvage yard, he finds the ravaged remnants of a giant robot programmed to exterminate mutants. But what could a downtrodden, disillusioned high-school sophmore possibly do with a 30-foot-tall engine of destruction?

Sentinel shows one contemporary teenager's struggle to find his own voice, to stand up for himself and to discover what it means to be a hero in the 21st century.

Oh yeah... it's also about a boy and his giant robot!
Sentinel Vol. 1: Salvage
---
Reprints: Sentinel Vol. 1 #1-6

List price: $7.99 (US) • $12.75 (Canada)
ISBN: 0-7851-1380-0
136 pages

Current In-Print Edition: First Print
Original Release Date: 4/14/04
---
Buy From:
TALES OF WONDER: $5.59 • AMAZON USA: n/a
AMAZON UK: £4.49 • AMAZON CANADA: $12.75

---
WANT TO DISCUSS OR REVIEW THIS BOOK? Visit us at the MarvelMasterworks.com Message Boards at the DISCUSSION THREAD!
---
SENTINEL #1-6
Script: Sean McKeever
Art: UDON Studios
Letters: Cory Petit and Dave Sharpe
Editor: Marc Sumerak
Collections Editor: Jeff Youngquist

Sentinel #1
22 pages + cover • June 2003
Meet Juston Seyfert of Antigo, Wisconsin, and join him as he struggles through school, with girls, with family, and with a giant mutant-hunting robot that is about to force its way into his life!
* * *
Sentinel #2
21 pages + cover • July 2003
Boy meets robot...but will he survive the encounter?!?!?!
* * *
Sentinel #3
21 pages + cover • August 2003
Juston not only has trouble putting his new Sentinel robot together. He finds that putting together any semblance of a love life with Jessie will be a big challenge in itself! p>
* * *
Sentinel #4
21 pages + cover • September 2003
IT'S ALIVE!!!
* * *
Sentinel #5
22 pages + cover • October 2003
Juston's problems continue to grow worse … but his new "friend" has a whole handful of solutions, and REALLY big hands!
* * *
Sentinel #6
21 pages + cover • November 2003
In this stunning conclusion to the first story arc, Juston finally lets the Sentinel out of the shed ... and Antigo, Wisconsin will never be the same!
---
-- synopsis by Gormuu, in addition to official Marvel solicit copy
---