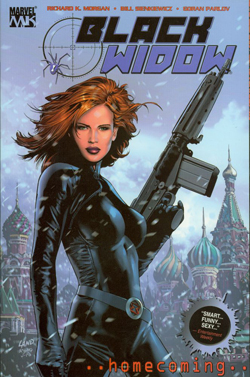 _________________________
From the Mouths of the Marvels:
"He's young- younger than me, anyway- and he's fast. And he has a knife he knows how to use. But like most men, in the end, he underestimates me."
-- Natasha, from Black Widow #1
_________________________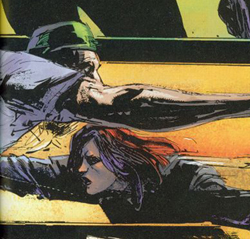 Natasha introduces herself to a knife-wielding scumbag.
(Click panels for larger images.) _________________________
Featured Characters:
Black Widow
Phil Dexter
Max Hunter
Kestrel
Nick Fury
Grigore Ivanovich
Yelena Belova
Vassily
Lyudmila Kudrin
_________________________ From the Back Cover:


"Marvel Comics has reinvented its female comic book icon, and she's leaner, meaner and dealier than before. Fans of The Bourne Supremacy, Alias and sophisticated storytelling in general should give this a shot." - - Atlanta Journal Constitution

"This is what it is like to enjoy a comic book without reservations." - - Ain't It Cool News

"A compelling, muscular slice of spycraft that restores true bite to The Black Widow. Richard Morgan takes aim at your endings." - - Nick Setchfield, SFX Magazine

SHE'S NOT ASKING FOR MUCH. BUT WHAT SHE HAS SHE'LL PROTECT AGAINST ALL COMERS.

Natasha Romanova is the Black Widow, a legendary Russian super-spy who defected to the West. After years of service to the US, she tries to leave the spy game. But when an assassin from her Cold War past pays a visit, Natasha learns that nothing in the intelligence community ever really dies...and nobody ever really gets to retire.

Future noir novelist Richard K. Morgan (Altered Carbon, Broken Angels), winner of the 2004 Philip K. Dick Award, makes his searing comics debut with Black Widow: Homecoming. Multi award-winning comics star Bill Sienkiewicz (Elektra: Assassin, Stray Toasters) and acclaimed European comics veteran Goran Parlov (Y: The Last Man) sumptuously illustrate this fast-paced fiercely intelligent story of black ops, biotech, and the ghosts of post-Soviet Russia.
Black Widow: Homecoming
---
Reprints: Black Widow #1-6

List price: $14.99 (US) • $24.00 (Canada)
ISBN: 0-7851-1493-9
124 pages

Current In-Print Edition: First Print
Original Release Date: 4/27/05

SPECIAL BONUS FEATURES: (4 pages total)
Character profiles: Black Widow, Nick Fury (1 page)
Character study: Black Widow by Bill Sienkiewicz
Creator profiles
---
Buy From:
TALES OF WONDER: $10.49 • AMAZON USA: $10.19
AMAZON UK: £7.54 • AMAZON CANADA: $19.20

---
WANT TO DISCUSS OR REVIEW THIS BOOK? Visit us at the MarvelMasterworks.com Message Boards at the DISCUSSION THREAD!
---
BLACK WIDOW #1-6:
Script: Richard K. Morgan
Pencils and Finished Art: Bill Sienkiewicz (#1-6)
Layouts: Goran Parlov (#2-6)
Colors: Dan Brown
Letters: Virtual Calligraphy's Cory Petit
Interior Cover Artists: Greg Land, Matt Ryan, Justin Ponsor
Editor: Jennifer Lee
Collection Editor: Jennifer Grunwald
Black Widow #1: "Homecoming"
22 pages • November 2004
Acclaimed science fiction novelist Richard K. Morgan (Altered Carbon and Broken Angels) and legend Bill Sienkiewicz (Elektra: Assassin, Stray Toasters) bring you old ghosts and new revelations about the original Black Widow — Natasha Romanova — in this hardboiled noir tale. The deadliest agent in the Marvel Universe has finally gotten out of the spy game, and she's not asking for much, just a life of her own. When a sudden assassination attempt provides a harsh reality check, the former Soviet agent tracks a string of international killings that will lead her back to a Russia she can barely recognize.
* * *
Black Widow #2: "Right To A Life"
22 pages + cover • December 2004
No matter what she does to get out of the spy game, Natasha's past keeps catching up with her. With the help of a retired agent from her old S.H.I.E.L.D. days, the Black Widow investigates the murder of a woman and makes a startling discovery. But will she be killed before she has time to follow her only lead?
* * *
Black Widow #3: "Now That's What I Call A Woman"
23 pages + cover • January 2005
The intrigue continues as the spy who melted Siberia — Natasha Romanova — uses herself as bait to get vital info. Meanwhile, her hunters in our nation's capital track her down, meaning — you guessed it — a guest appearance by Nick Fury! p>
* * *
Black Widow #4: "No Place Like Home"
23 pages + cover • February 2005
The Widow comes home to Moscow for the first time in ages — and what she finds there ain't pretty. The Motherland has changed a lot in the years since Natasha left the KGB. Picking up the pieces of her lost past leads her straight back to the elite black-ops training academy known only as the Red Room..or what's left it. The secrets she discovers about her training there will shatter her past and send shockwaves deep into her future.
* * *
Black Widow #5: "A Field In the East"
23 pages + cover • March 2005
Armed with the shocking revelations about her Red Room past, Natasha leaves Moscow and heads to the birthplace of the Black Widow program. Has the time finally come for her to meet her maker?
* * *
Black Widow #6: "Now That's What I Call A Woman (Reprise)"
22 pages + cover • April 2005
Hell hath no fury like the Black Widow. She's here, she's feared, and she's ready to take down those who want her dead. Still reeling from the discoveries about her Red Room past, Natasha must first uncover one more secret…and the only person who can help her is the one person who's betrayed her the most! Featuring an appearance by Nick Fury. The searing comics debut of Philip K. Dick Award-winning novelist Richard K. Morgan will leave you hungry for more!
---
-- synopsis from official Marvel solicits
---