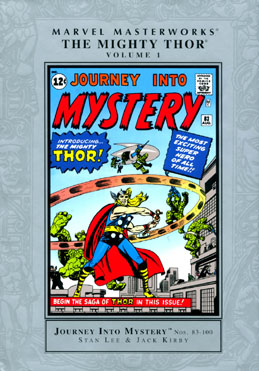 Thor Masterworks Vol. 1
Regular Edition Cover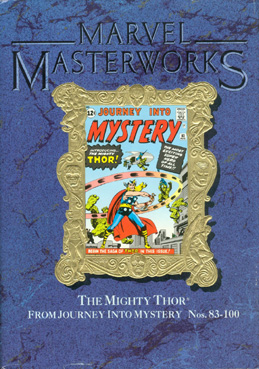 Thor Masterworks Vol. 1
Variant Edition Cover
Click panels for larger images _________________________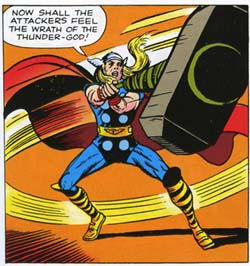 (Click panels for larger images.)
_________________________

ENCYCLOPEDIA OF NORSE MYTHOLOGY
Here's a reference website with tons of information on Norse mythology!


NORSE MYTHOLOGY
Another website with more information on Thor, Odin and Asgard


_________________________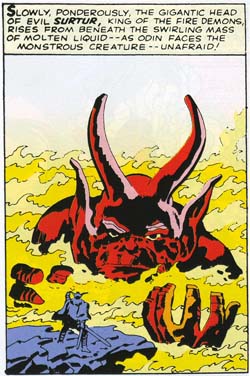 _________________________
PRINT HISTORY &
COVER GALLERY
Original 27
First print: 10/92
_________________________
ComicCraft
Second print: 11/10/99

---
Marvel Masterworks: Thor Volume 1

Reprints: Thor from Journey Into Mystery #83-100

(Vol. 18 in the Marvel Masterworks Library)

Current In-Print Edition: 2nd Edition, First Print
Original Release Date: 7/16/03

REGULAR EDITION ISBN: 0-7851-1267-7 • List Price: $49.99
VARIANT EDITION ISBN: 0-7851-1273-1 • List Price: $54.99
VARIANT PRINT RUN: 480

288 Pages

Scripted by Larry Lieber, Robert Bernstein, and Stan Lee

Pencilled by Jack Kirby, Joe Sinnott, Don Heck and Al Hartley

Foreword by Stan Lee

On Sale: MASTERWORKS LIST
---
FOR HONOR! FOR GLORY! FOR...MIDGARD?
That might as well be the battle cry for this Thor Masterworks volume, reprinting the first 16 Thor stories from Journey Into Mystery (as well as the first four Tales of Asgard backup stories.) Thor Vol. 1 takes us on Marvel's trip through the formative days of arguably its most powerful superhero. It would be nice to say that these are classic stories, ripping with the kind of unbridled energy of which fans of the very earliest works of the Fantastic Four, Spider-Man and Doctor Strange can testify. It would be nice, but it would largely be untrue. You see...Thor got off to a sort of slow start. Many of the plot devices were hardly epic and godlike in scope: the main course of antagonists included standard issue alien invasions, Communist menaces, two-bit magicians, and bumbling gangsters. And when he wasn't facing those guys, Thor got a heavy dose of Loki, his mischievous half-brother. Being that Thor was one of the earliest comics in the Marvel stable to debut (trailing only Fantastic Four and Hulk in consistent publication,) and not getting the full benefits of the right and left knockout punch that Lee/Kirby provided, it took a little while to get its legs. The creative team of Stan Lee and Jack Kirby, who helped make the Thor title legend through the remainder of the sixties, are only in tandem together in one story in this first Masterworks volume.
Most of the action in these stories takes place on Earth, where the Thunder God of Norse mythology makes his way around the mortals he grows to love, and in fact, spends much of his down time as a mortal himself! In the personage of Dr. Don Blake, a mortal man who not only discovered Thor's long-interred hammer but had the worthiness to handle it, creator Stan Lee worked more Marvel magic with his ability to identify within his heroic protagonist some kind of hobble: in this case, Dr. Don Blake is lame. You heard me...the guy walks with a limp. Whereas Matt Murdock is blind, Tony Stark has a bad ticker, and Peter Parker has a curfew, Don Blake has to carry around a crutch to keep himself standing up.
Now, this crutch is pretty powerful as it turns out. All Dr. Blake has to do is tap it against the ground and it turns into Thor's hammer, and turns him into Thor! One would think this would be a pretty nifty way to pick up girls, but Stan's plotline dictates that Thor is forbidden to reveal his identity to any mortal. Thus, the object of his affections, his nurse Jane Foster, must live one step beyond the point where he can share his love with her. Dr. Don Blake is set up as the constant self-loathing loser, a man who knows he could show the woman of his dreams the world, but is forced to inhabit the body of a lame and aggravatingly private man.
Besides the constant back-and-forth of unrequited lovelorn-isms between Dr. Don Blake and Jane Foster that thread through the stories in this book, there is lots of attention paid to Loki. He makes his appearance in no less than five of the first sixteen stories, establishing himself as number one in Thor's rogues gallery. In the initial stories, Loki is portrayed very close to his roots as an overly clever rogue god with little to do but fixate on his resentment to his half-brother. He does this the only way he knows how- through trickery and manipulation. Also appearing to menace Thor are mainstays Zarrko and Radioactive Man, and perennial losers like the Human Cobra and Mr. Hyde. The glories of Asgard were only plumbed to provide the location where Odin would tell Thor he couldn't reveal his identity to Jane Foster. Asgard's rich tapestry had yet to be fully exploited by the likes of scripters Larry Lieber and Robert Bernstein. It would only skyrocket to its full potential in the hands of Stan Lee and Jack Kirby, but that would come later....
Ahh...but don't let me dis this volume all the way down the line! There's some gems here. The first story, Thor's origin tale, features some utterly charming Jack Kirby art. His renderings of the Stone Men From Saturn are classic stuff. Thor's initial battles with Loki are also quite charming, with Loki definitively noted as the mischievous sort he is (you've got to see the sequence in which Loki takes flight among the pigeons!) And as bad as Journey Into Mystery #90 is- it's quite possibly the worst comic in Silver Age Marvel Comics- it's still worth reading for some howlingly bad dialogue, terrible plotting, and Al Hartley's one and only take on Thor pencils. It's one of those "so bad it's good" kind of things.
But perhaps the best reason to buy this volume is Tales of Asgard. This 5-page backup feature made it's premiere in the back pages of JiM #97. While the Thor feature showcased the Thunder God in battle against the mundane villains of Midgard, Stan Lee and Jack Kirby were setting the tone for the grandeur that Thor would reveal later in the decade. Lush, epically filled-out panels of Odin and the origins of Asgard were ahead of their time in 1963. Jack Kirby was on fire with his imagination, with the backup feature in #99 worth special note. Nearly every panel is a revelation of pop-art panache, a large-scale feast of artistic splendor.
This is the calm before the real thunder storm, which would come in later editions of Thor Masterworks, but Volume 1 has charms all its own, and it is quite unlike any other version of Thor that would come later.
-- by Gormuu
---
Issues Reprinted
Thor from Journey Into Mystery #83-100

Click on cover image to learn more about each issue.