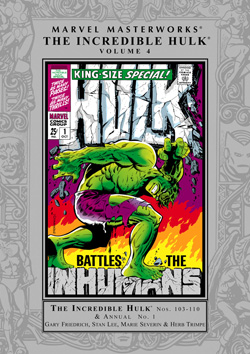 Incredible Hulk Masterworks Vol. 4
Regular Edition Cover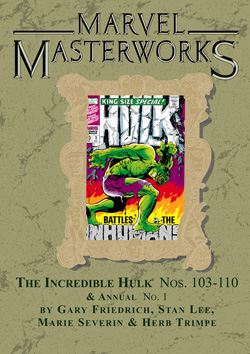 Vol. 78: Incredible Hulk
Variant Edition Cover
Click panels for larger images
_________________________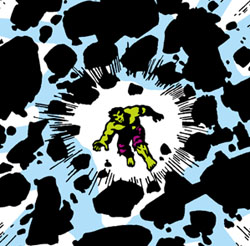 Click panels for larger images
_________________________

THE INCREDIBLE HULK: ENGINE OF DESTRUCTION
An INCREDIBLE HULK of a site! Oodles of information about the green skinned monster!


OFFICIAL HULK MOVIE SITE
Tons of information from the official Universal Pictures site!


HULK TV SERIES HOME PAGE
I was angry for a long time, and nobody liked me when I was angry. But then I found this page, with tons of space devoted to the TV show starring Bill Bixby, and I have learned to control my anger.

---
Marvel Masterworks: Incredible Hulk Volume 4

Reprints: Incredible Hulk #103-110 and King-Size Special #1

(Vol. 78 in the Marvel Masterworks Library)

Current In-Print Edition: First Print
Release Date: May 2007

REGULAR ED. ISBN: 0-7851-2682-1 • List Price: $54.99
VARIANT ED. ISBN: 0-7851-2683-X • List Price: $54.99
VARIANT PRINT RUN: 1600

240 Pages

Written by Gary Friedrich, Stan Lee, Roy Thomas, Bill Everett and Archie Goodwin

Pencils by Marie Severin and Herb Trimpe

Foreword by Herb Trimpe

On Sale: MASTERWORKS LIST
---
It's time for more Masterworks mayhem from the house-shakin' Hulk!
Now headlining his very own title again for the first time in six years, the Green Goliath has twice the space to shake the Earth with his mighty rage, and you can bet Mighty Marvel is going to take advantage of every square inch of that space!
See the beginnings of the Hulk's first outer-space adventure versus the Space Parasite! Place your bets against for the strongest man-monster in the Marvel U.: ol' greenskin or the Rhino!
Then it's road-trip time! The mighty Hulk travels continents far and wide, and believe it or not, he doesn't make too many friends along the way! It's a travelogue of destruction that's going to leave the Mandarin, the Inhumans, and the entire Savage Land rubbing a sore jaw in the wake of a freight train named "Banner."
Guest-starring Nick Fury and Ka-Zar, this baby's guaranteed to give you greenback's worth!
Collecting INCREDIBLE HULK (Vol. 2) #103-110 & SPECIAL #1
(from official Marvel solicit)
---
Issues Reprinted
Incredible Hulk #103-110 and King-Size Special #1