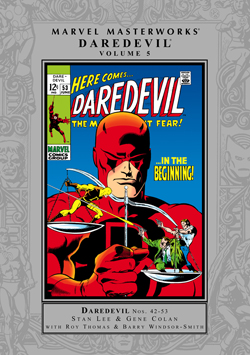 Daredevil Masterworks Vol. 5
Regular Edition Cover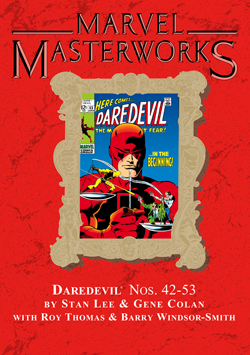 Vol. 110: Daredevil Masterworks
Variant Edition Cover
Click panels for larger images _________________________

THE DAREDEVIL RESOURCE
A massive trove of information regarding ol' hornhead!


MAN WITHOUT FEAR
Another fan website that covers all terrain of the Man Without Fear!


DAREDEVIL: DIRECTOR'S CUT DVD
Buy the 2004 DVD edition of the Director's Cut version of Daredevil starring Ben Affleck


DAREDEVIL: WIDESCREEN EDITION DVD
Buy the 2003 DVD edition of the regular widescreen version of the Daredevil movie


---
Marvel Masterworks: Daredevil Volume 5

Reprints: Daredevil #42-53

(Vol. 110 in the Marvel Masterworks Library)

Most Recent Print Edition: First Print
Original Release Date: January 21, 2009

REGULAR ISBN: 978-0-7851-3042-0 • List Price: $54.99
VARIANT ISBN: 978-0-7851-3043-7 • List Price: $54.99
VARIANT PRINT RUN: TBA

272 Pages

Scripted by Stan Lee and Roy Thomas

Pencils by Gene Colan and Barry Windsor-Smith

Introduction by Gene Colan

On Sale: MASTERWORKS LIST
---
DON'T FEAR THE NEW YEAR! IT'S DAREDEVIL MASTERWORKS!
"The Man Without Fear faces his greatest threats yet in his fantastic fifth Masterworks adventure! Matt Murdock has done battle with Marveldom's most maddening villains, but when he with the Jester for the very first time the rules change forever. Framing DD for murder, the Jester sets all of New York on a manhunt for the Man Without Fear! But there's another menace looking to push the stakes even higher - Starr Saxon, the mastermind who discovers DD's secret identity!
Then comes the all-time Stan Lee/Gene Colan classic, "Brother, Take My Hand!" A story that marked the ever-advancing march of super-hero comics into the social issues of the '60s by tackling the tale of a blinded Vietnam vet finding his way Stateside. It's a no-question classic!
There's plenty of action, too, as DD jumps inside the ring to rub knuckles with Captain America, teeters over the city with Stilt Man, teams-up with the Black Panther, and all the while struggles to rebuild his relationship with the lovely Karen Page. And as if that wasn't enough, we're rounding it out with the Stan and Gene's Not Brand Echh side-splitter, "Scaredevil, Defeated by the Evil Electrifico!"
Collecting DAREDEVIL #42-53 & NOT BRAND ECHH #4
(from the official Marvel solicit)
---
Issues Reprinted
Daredevil #42-53