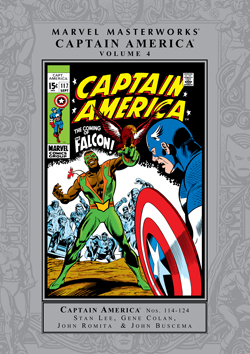 Captain America Masterworks Vol. 4
Regular Edition Cover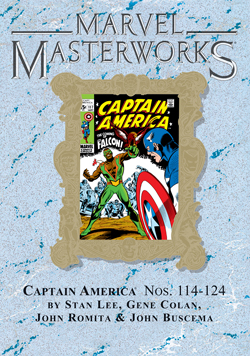 Vol. 93: Captain America
Variant Edition Cover
Click panels for larger images _________________________

CAPTAIN AMERICA AT MARVEL.COM
Cap reference at Marvel's official website!


AVENGERS MASTERWORKS VOL. 1
Brought back from suspended animation, he would soon be leading Earth's Mightiest Heroes!


GOLDEN AGE CAPTAIN AMERICA MASTERWORKS VOL. 1
The first four issues of Joe Simon and Jack Kirby's Cap!



---
Marvel Masterworks: Captain America Volume 4

Reprints: Captain America #114-124

(Vol. 93 in the Marvel Masterworks Library)

First Print
Release Date: March 19, 2008

REGULAR EDITION ISBN: 978-0-7851-2936-3 • List Price: $54.99
VARIANT EDITION ISBN: 978-0-7851-2937-0 • List Price: $54.99
VARIANT PRINT RUN: TBA

240 Pages

Scripted by Stan Lee
Pencils by Gene Colan, John Buscema and John Romita
Introduction by TBA

Buy From:
MASTERWORKS LIST
---
PREVIEW IMAGES
CAP #120: Pg. 1
CAP #120: Pg. 2
CAP #120: Pg. 6
CAP #120: Pg. 13
CAP #121: Pg. 1
CAP #121: Pg. 4
CAP #121: Pg. 12
CAP #122: Pg. 4
CAP #122: Pg. 6
CAP #122: Pg. 20
---
INTO THE SEVENTIES WITH THE SENTINEL OF LIBERTY!
Steve Rogers is dead. Long live Captain America! The Sentinel of Liberty returns in another series of Marvel Masterworks adventures by the crème de la crème of the Bullpen's unmatched artists and Stan "The Man" Lee.
While the world thinks Steve Rogers dead, he continues on in secret as Captain America, but one identity crisis leads to another when the Red Skull returns and uses the power of the Cosmic Cube to switch bodies! Only with the help Sam Wilson, the Falcon - the world's first African-America super hero - can Cap regain his true identity and defeat his Nazi nemesis!
There're also adventures against the Scorpion, Suprema, and a classic Cap college campus story from the students' rights era that proves if ain't relevant, it ain't Marvel! And lest we forget, Cap's beautiful gal, Sharon Carter, guest-appearances by the Avengers, Nick Fury and Rick Jones in the guise of Bucky, and the looming menace of M.O.D.O.K. and the men of Advanced Idea Mechanics! So forget your war bonds and invest in Cap Masterworks, this one's guaranteed greatness!
Collecting CAPTAIN AMERICA #114-124
(from official Marvel solicit)
---
Issues Reprinted
Captain America #114-124

Click on cover image to learn more about each issue.