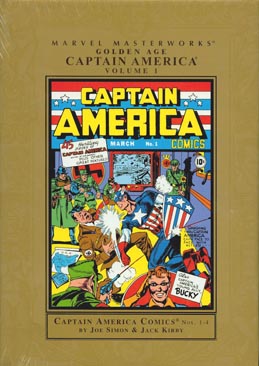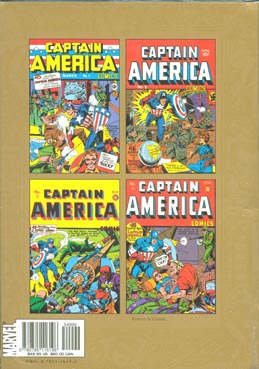 Click panels for larger images
_________________________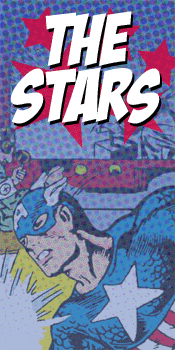 _________________________

THE GOLDEN YEARS
Steve Rogers, a great friend to this website, leads you through a history of Golden Agecomics fun!


GUIDE TO MARVEL'S GOLDEN AGE CHARACTERS
This site kicks major booty as an encyclopedia for individual Marvel characters from Marvel's Golden Age.


THE HEROES OF TIMELY COMICS
Here's another site that makes a great companion to Jess Nevin's Guide to Marvel's GA Characters.


THE COMICS ARCHIVES
DC Archives Survey major domo David Stepp has a super-groovy website that charts a lot of DC's Golden Age output via this website.


GOLDEN AGE COMIC COVER GALLERY
Site designer Ben Samuels shares some scans of some of his favorite Golden Age covers!


MIKEL MIDNIGHT'S GOLDEN AGE DIRECTORY
This is a big resource site for Golden Age facts and figures, covering not only DC publications, butTimely/Marvel and Fawcett.

_________________________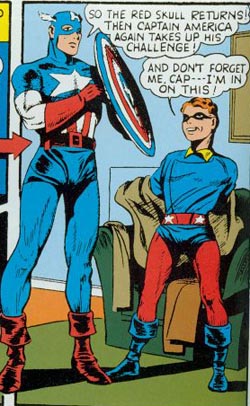 ---
Marvel Masterworks:
Golden Age Captain America Vol. 1

Reprints: Captain America Comics #1-4

(Vol. 43 in the Marvel Masterworks Library)

Current In-Print Edition: First Print
Original Release Date: 3/23/05

REGULAR EDITION ISBN: 0-7851-1619-2 • List Price: $49.99
VARIANT EDITION ISBN: 0-7851-1620-6 • List Price: $54.99
VARIANT PRINT RUN: 1353

272 Pages

By Joe Simon, Jack Kirby, and others
Foreword by Roy Thomas

Buy From:
TALES OF WONDER: REG / $34.99
TALES OF WONDER: LTD / $38.49
---
WANT TO DISCUSS OR REVIEW THIS BOOK? Visit us at the MarvelMasterworks.com Message Boards at the DISCUSSION THREAD!
---
America was at war....it just didn't know it yet!
True, America wasn't actively fighting in the closing days of 1940 when the character of Captain America and his flag-waving stories were conceived, but Martin Goodman, Joe Simon, and Jack Kirby- like many other publishers, writers, and artists in the fledgling comic book industry- could see the writing on the wall.
In late 1940, there had been some setbacks at Timely. Daring Mystery and Mystic Comics hadn't found their audience and had been canceled for the first time, and another new title- Red Raven Comics- hadn't made it past the first issue. Still, things weren't all bad in Goodman's small comic book empire. Marvel Mystery Comics had been a rousing success with Human Torch, Sub-Mariner, and the Angel (a favorite of Goodman's). Torch was just getting ready to graduate to his own book, and Sub-Mariner would come along as back-up. Torch and Sub-Mariner had been successful, but Goodman wanted more. He wanted a success along the lines of Superman.
Goodman conferred with editor Joe Simon, who talked with art director Jack Kirby. They came up with the idea of Captain America, presented it to Goodman. Goodman had seen the success of MLJ's Shield in Pep Comics, and in September of 1940 he approved the idea, as well as a 25% split of the profits for Simon and Kirby.
Work began vigorously afterwards, as Simon and Kirby rushed to meet Goodman's abbreviated deadline. With the help of Al Liederman, Al Avison, and Al Gabrielle, they managed to get all 45 pages of Captain America, plus the cover and illustrations for the text piece and contents page done in time. To round out the issue, they took features Jack had already completed and were sitting in inventory- Hurricane and Tuk, the Caveboy. Jack had done Hurricane for the defunct Red Raven book, although for that book, the character had been given the name Mercury. It's unknown what book Tuk was intended for, but it had to be edited down to fit in its new home in Captain America Comics. (Notice that page 5 is missing from the story, and the text in the first panel of page 6 was probably rewritten to fill in for the action on the missing page.)
Also of note in this first issue is the ad for USA Comics #1. It was to have hit the stands along with Captain America Comics #2, and would have been overseen by Simon and Kirby with covers by the pair, but there was a little bit of a snafu. Goodman was worried that the government might object to USA as the title, so it was decided that Basil Wolverton's Rockman feature, would be called Underground Secret Agent and the book would be retitled U.S.A. Comics. Still, that little detail shouldn't account for the book being 4 months late. Something was clearly wrong, because by the time U.S.A did debut, almost all of the features advertised in this original ad had been dropped, and Young Allies had gone on to its own title. Of the dropped features, only Headline Hunter managed to surface, in Captain America Comics #5.
As Captain America Comics #2 was in production, Goodman received word from MLJ publisher John Goldwater. He had seen or heard of Captain America and was threatening a lawsuit. Goodman was able to appease him with a minor tweak of Cap's shield, and averted the crisis.
Subsequent issues of Captain America came off without a hitch. Simon and Kirby, and their assistants improved with each story, becoming a well oiled machine, producing even greater work in the next two volumes. Meanwhile, the two back-ups continued without Simon and Kirby at the helm. Two final Kirby inventory stories popped up: Hurricane in #2, and Amazing Spy Adventures in #3, but the rest of the back-up features were left to other hands.
Captain America Comics #1-4 are monumental achievements, given the hectic schedule their creators had to deal with. In those issues are the groundwork for one of the most enduring characters in comic book history. They are true Marvel Masterworks.
-- by Eric Schumacher
-- panel images provided by Gormuu
---
Issues Reprinted
Captain America Comics #1-4

Click on cover image to learn more about each issue.